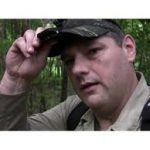 Thomas Marcum is the founder of The Crypto Crew, a cryptozoology and paranormal research organization. Thomas has over 20 years of experience investigating the unexplained. He has more than a few storys he can tell you. In 2014, he was the paranormal awards winner for both picture of the year, and investigator of the year.
His book BIGFOOT WITNESS is an excellent read, full of eyewitness accounts any researcher can gleem valuable information from. Additionally, Thomas can be found in a number of Bigfoot research films.
Follow his latest discoveries at http://www.thecryptocrew.com/.
Books:
Video:
Director: