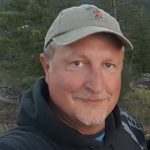 Since his first encounter near the Oregon Caves over 16 years ago, Dr. Matthew Johnson has been a lightning brand in the Bigfoot world.  It's said that if you cannot learn from the mistakes of the past you are destined to repeat them.   Dr. Johnson took this saying to heart and has spent over a decade trying out various techniques.  He has traveled from the unexpected eyewitness, to the "I'll get proof" paparazzi, to the habituator, to the habituatee.  He is the founder of Team Squatchin USA, and has run the Grub, Gulp, and Gab Gathering monthly Bigfoot meetings in Western Washington for 5+ years.  Additionally, he is into the 3rd year of chairing the annual Bigfoot University Conference in Bremerton, Washington.
Dr. J, as his friends call him, has always been eager so share what he has discovered, so that others can learn from his experiences, and then utilize them to have your own experiences.  To this end he has just written his first book on the Forest People, the name he prefers for Bigfoot.  BIGFOOT: A Fifty Year Journey Come Full Circle chronicles his constant new discoveries about the Forest People, from his humble stumblings, to who the Forest People are, where they are from, why they came, and what they are doing here.  It will be the must read Bigfoot Book of 2017.
In addition to his Bigfoot research, Dr. Johnson is a Clinical Psychologist with degrees from the University of Alaska, Rutgers University, and George Fox University.  His first book, Positive Parenting With A Plan
, shows as side of Dr. J many in the world of Bigfoot are unaware of.
To pre-order BIGFOOT: A Fifty Year Journey Come Full Circle, visit the Team Squatchin website, www.teamsquatchinusa.com/pre-sale-for-bigfoot-book-by-dr-matthew-a-johnson