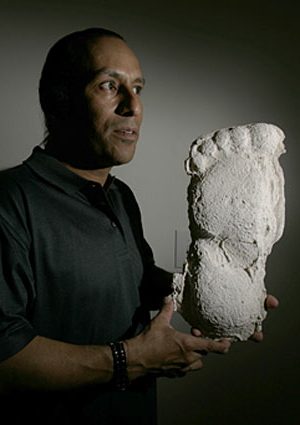 Daniel Perez, acknowledged Patterson-Gimlin Film expert, wrote the "bible," on the film, "Bigfoot at Bluff Creek."  In it, Perez chronicles events leading up to the filming and its impact.  Perez was hooked on Bigfoot at age 10 after seeing "The Legend of Boggy Creek" in 1973.  The Riverside, CA resident quickly charged into Bigfoot research, founding both the Center for Bigfoot Studies in 1979, and editing and publishing the "Bigfoot Times."  Known for its uncompromising and controversial commentary on Bigfoot research, the newsletter is popular among "Bigfooters."
Despite searching for Sasquatch for over 30 years without seeing it, Perez says the evidence has convinced him Bigfoot is real.  He maintains an extensive collection of reports and a comprehensive bibliography of Bigfoot articles and news.  Determined and unrelenting in his research, Perez is skeptical of some claims, exposing several hoaxes.  Perez has investigated reports throughout the US, Australia, and Russia.
His book, "Bigfoot: Encounters Past to Present," is a must-read for all investigators, especially young adults, looking for factual and impartial information.  With an index, FAQ section, maps, and illustrations, the book is an excellent choice for your collection.
Books by Daniel Perez:

Big Footnotes: A Comprehensive Bibliography Concerning Bigfoot, the Abominable Snowman and Related Beings