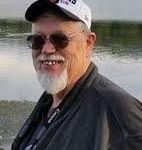 With his wicked sense of humor and incredible insight into the world of the Sasquatch people, Thom Cantrall is a mainstay of the Bigfoot community.  His ideas have shaped current thought on the Sasquatch and he has mentored many Bigfoot researchers.
Thom's Sasquatch interest began after the 1958 Jerry Crew incident on Bluff Creek.  His first experiences happened on Washington State's Olympic Peninsula.  A series of incidents led to his first actual encounter when he observed a Bigfoot couple feeding in a clearing deep in the woods.
Thom is a prolific writer and a popular speaker for Bigfoot Conferences.  He has authored several books and an assortment of compelling essays that are on his site Ghosts of Ruby Ridge.  He hosts a podcast with Arla Williams, Sasquatch Talk and More with Thom and Arla.
Books by Thom Cantrall:
21 Days to Destiny: The Real Story of Bluff Creek by Thom Cantrall (2016-01-12)
21 Days to Destiny: The Real Story of Bluff Creek
Sasquatch – The Search for a New Man
Ghosts of Ruby Ridge
 (If you only read one, read this one.)
Seventy Years on the Mountain
Marni's Story
Sasquatch The Living Legend